I was living in Atlanta, GA and had a really great Realtor sending me links of homes in the small town of Mount Airy, NC. I decided to move to a small town from the big city to be closer to my parents and I was tired of the hustle and bustle of the big city. I was craving small town charm.
The very first house I liked from the listings she sent, I started imagining how it would look with the walls painted, the carpeting ripped out... I was decorating it in my mind. I could even picture myself cooking in the kitchen of the house. I found a bunch of other houses from the listings she sent, but that first one still stuck in my mind.
I drove to NC to look at the homes in person. I had twenty houses lined up to look at that day. Yes, twenty in one day! The house I had told her I was most interested in was first on the list. It wasn't much to look at on the outside. Just an old brick ranch. I loved the neighborhood it was in. As we drove to it, big beautiful oak trees towered over us and draped across the road like a canopy. It was beautiful.
We get out of the car and walk inside. The first thing that hits me is the stench of oldness. It had a musty old smell that I didn't think I was going to be able to get past. I think the smell killed it for me, because my excitement vanished a little and I started doubting. I remember the cabinets in the kitchen was the thing I liked most about the house and the fact that it had a fireplace. I continued to look at house after house that day, but house #1 still had a place in my heart. I found another house that I liked as much. It had more charm on the outside and I liked the layout, but the backyard was slanted too much. I wouldn't be able to have a garden or play fetch with my dog in it or anything, so that became the deal breaker. We were back to House #1 and I get a call from my realtor saying, the house has gone into a short sale and the price dropped dramatically! I ran back over to look at the house again to be sure this was the one.
I said yes, I want this house, signed the papers and closed on it 6 weeks later!
This was taken in the snow after I had already moved in, but this is my favorite picture of the house. It doesn't look quite as bland wrapped in snow :)
One of my favorite things about my home is the fireplace.
The other thing I had liked so much when I first looked at the house were how the cabinets were custom made and had a cottage look to them.
I know I just posted before and after pictures of every room in my house, but I saw this link on the blog,
Our Suburban Cottage
and thought I would do a post on how I met my house, too. I'm a little late, as this should have been posted yesterday I guess, but it was fun anyway! Go over to An Nicole's
How I Met My House Party
and check out all the other amazing stories or post your own story there.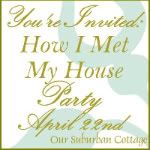 To see
BEFORE and AFTER
pictures of my home,
click here
.
P.S. The house smells good now, clean from a good scrubbing and airing out or whatever I happen to be baking :)